Dive into the world and brand of Nexom.
This company that you and I work for is special. We are a passionate, diverse group of people that cares about the world, cares about doing great work, and takes special care of one another. The point of the brand—and by extension, this guide—is to help outsiders understand what we already know: how special this group of people we call Nexom really is.
The best way to grow our business is to tell others what's special about us in a clear and consistent manner,
and to help you, we've specifically designed some brand tools that are introduced in this guide.
WHAT DO WE SAY WHEN PEOPLE ASK
"So, what does Nexom do?"
WE GIVE THEM OUR BRAND STATEMENT:
"The wastewater industry has seen how nutrients and energy costs expose the limits of existing solutions. Nexom design-supports and supplies the next wave of proven technologies helping consulting engineers confidently exceed all municipal or industrial demands."
OUR BRAND STORY
When you get asked what your company does, what do you say?
The best brands tell a story about how their customer had a problem, and how you came alongside them to assist as they solved it. If there's one thing you take away from this entire book, memorize the two sentences above. You are a brand ambassador, and that story is how we want to be remembered. Of course, there's a long version of this using all the classic story elements, and it starts with our hero…
Our hero…
Municipalities are key, but consulting engineers most influence whether we get a project.
What do they want? Like most professionals, these engineers want to do a good job, avoid frustrations, and move up in the world.
Has a Problem…
If we want to provide a solution, we must understand all levels of their problem.
Their external problem: The engineer needs an ammonia/nutrient removal solution.
Their internal problem: They need to move the project forward to please the boss.
Their philosophical problem: They desire recognition and admiration as an excellent engineer
meets a guide who understands their fear…
We must show we care and are credible.
We have empathy: We get that projects can move frustratingly slo-o-owly.
We have authority: Testimonials from fellow engineers and our data from full-scale facilities shows we can be trusted.
and gives them a plan…
We lay out in simple steps a pleasant process of doing business with us, to make it easy for engineers to move forward confidently.
Submit the RFP info.

Receive final design-ready drawings.

Never worry about nutrient limits again.
calling them to action…
Giving the hero a useful next step that moves the project forward.
Direct Call-to-Action: The "Submit your RFP" website button (or similar invitation in an ad) lead to tangible progress on a project without us having to do anything.
Indirect Calls-to-Action: Useful for those not ready to move forward, these can include offering valued content (in exchange for an email address for follow-up), inviting them to a presentation (either webinar or in-person), or the ol' Contact Us button.
that leads to success!
We fulfil our promises of moving the project forward, the project is green-lit, the engineer has a great experience working with us, and we gain an evangelist while helping them to climb into a role with more influence.
that leads to failure.
The process falls apart, expectations aren't met, and the consulting engineer moves on. Chances are we won't get another shot with that engineer any time soon.
Our Brand Story helps us explain where we fit—we are the guide!—and what we do as part of our everyday interactions.
But who we are at a deeper level speaks to our mission, vision and our core values.
WHAT'S OUR DREAM FOR THE WORLD THAT OUR COMPANY EXISTS TO REALIZE?
OUR VISION:
For every drop of wastewater to meet the highest nutrient standards at the lowest possible energy footprint.
What do we do to turn that dream into reality?
OUR MISSION:
We ensure all wastewater plant operators sleep easy at night through a relentless commitment to proven innovation, best-in-class employees and customer service.
WHAT IS DIFFERENT ABOUT OUR COMPANY THAT MAKES US UNIQUELY CAPABLE OF ACHIEVING OUR MISSION?
OUR CORE VALUES
AT NEXOM, WE BELIEVE IN
Doing what we say
What do a good jumpshot, perfect golf swing, and Nexom's success have in common? It's all about following through. This is about so much more than honesty. We've built a reputation for reliability and earned the trust of engineers, regulators, and operators by supplying technologies that do what they're designed to, and by our people routinely overdelivering on our promises.
DAVID HUME
A Scottish philosopher who paved the way for the scientific method, Hume's life shows the power of following through: overlooked for much of his career, others would have given up; Hume instead cheerfully re-examined his earlier work even as he blazed new trails, and at long last received the respect he was due.
At Nexom, We Believe in
Seeing through clients' eyes
It's important to keep things in perspective. But to us, it's equally important to choose the right perspective. Many companies consider themselves "client-focused," but that's inherently a reactionary position. Instead, we proactively choose our actions based on our clients' points of view. We anticipate what matters to them, communicate with clarity and listen well. We are here for our clients as a guide they trust.
HARRIET TUBMAN
Once she escaped the horrors of slavery, Harriet Tubman should never have had to look back. But feeling the pain of the enslaved, she repeatedly risked her life as a part of the Underground Railroad and a Union scout during the U.S. Civil War, with her actions directly leading to the freedom of hundreds.
At Nexom, We Believe in
Relentlessly doing little things right
Details are like surgery. The only minor ones are the ones that don't affect us. If we were forecasting weather, we could afford to be wrong 30% of the time; instead, clients need us to be 100% right. Since even big jobs and corporate decisions are just collections of tiny details, we win by tirelessly getting each one right.
Michelangelo
Michelangelo was so detailed that, even doing work he didn't like (painting), his results (the Sistine Chapel ceiling) are seen as the best of their kind. Scholars call his sculptures "a miracle that a formless block of stone could ever have been reduced to a perfection that nature is scarcely able to create in the flesh."
At Nexom, We Believe in
No egos.
No silos.
They may not have WHMIS labels, but we've banned these toxic substances. Nothing chokes personal growth like egos or workplaces like silos. Both isolating impulses stem from a fear of being overlooked and a desire to be needed. We embrace humility and collaboration to become better people and grow Nexom so we can all be seen and valued.
CONFUCIUS
"I am not bothered by the fact that I am unknown, I am bothered when I do not know others." The Chinese philosopher tried early in his career to convince local rulers to remove literal walls to allow cooperation. "I don't worry about not having a good position," he said, "I worry about the means I use to gain position."
At Nexom, We Believe in
Family
We care about each other at work and our families at home, whether that includes ten kids, one goldfish, or neither. What does it mean for us to be family? It's not to replace our home lives; quite the opposite! Rather, we legitimately care about our coworkers and our families (as varied as our situations away from work can be!). And we all take responsibility for keeping each other safe and healthy, and making this place a source of happiness, growth and fulfillment, because that's what families do!
MARY SEACOLE
At the outbreak of the Crimean War, Jamaican nursing pioneer Mary Seacole applied to go care for the wounded. The government said no, but she felt she had to help and went anyway. The renown she earned for fearlessly caring for soldiers on both sides led to her being later named the greatest black Briton.
Where the "Nexom" name comes from
THE TRUTH
In 2015, Tom Pokorsky (who would become our first CEO, but was then just an Executive-in-Residence with XPV Water Partners) was traveling through Greece when he came across a strange temple on a the Aliakmonas Potamos river south of Thessaloniki. Exploring among the temple's columns, he came upon a large pool of water, in the center of which was a stone throne upon which sat a fierce-looking woman in an intensely-green dress but otherwise dressed for an ancient battle.
Tom thought his wife or his guides were pranking him—until the lady spoke.
"Hello, Tom. I am Nexom, the Goddess of Nutrients, born of the unholy union of Demeter, Goddess of the Harvest, and Poseidon, God of the Sea. I have for you a great quest. Every day, nutrients spill out of your continent's wastewater plants to destroy waterways, lakes, and oceans. Heroic engineers are striving to stem this flow, but they need a guide to equip them for this Herculean task."
She rose. Her raised sword crackled with energy. "Summon an army in my name," she ordered. "Build tools to defeat nutrients, and I'll see to your success."
In a flash, she was gone, but Tom knew what he had to do. He grabbed his phone and dialled his assistant: "Georgiann, make an appointment with my doctor to review my dosages. But hang on; get me XPV first. We've got to get a team together."
Where the "Nexom" name comes from
WHAT WE TELL PEOPLE SO THEY DON'T THINK WE'RE CRAZY
Nexom proper noun | nex·um | \'nex- m\
A made-up name derived from the term "nexus" which suggests the "centre" or "focus," as well as a "connected series or group," much in the same way Nexom's technologies are the focus of a connected series.
A word that conveniently includes the initials of "Nelson Environmental" and the first initial of "XPV"
WHAT'S THE RIGHT WAY TO PRONOUNCE "NEXOM"?
NECK-sum
nex-SAWM
There is no "Da Vinci Code" hidden its artwork, but
OUR LOGO
was designed to evoke specific feelings and ideas. It also comes in many forms to suit a variety of purposes.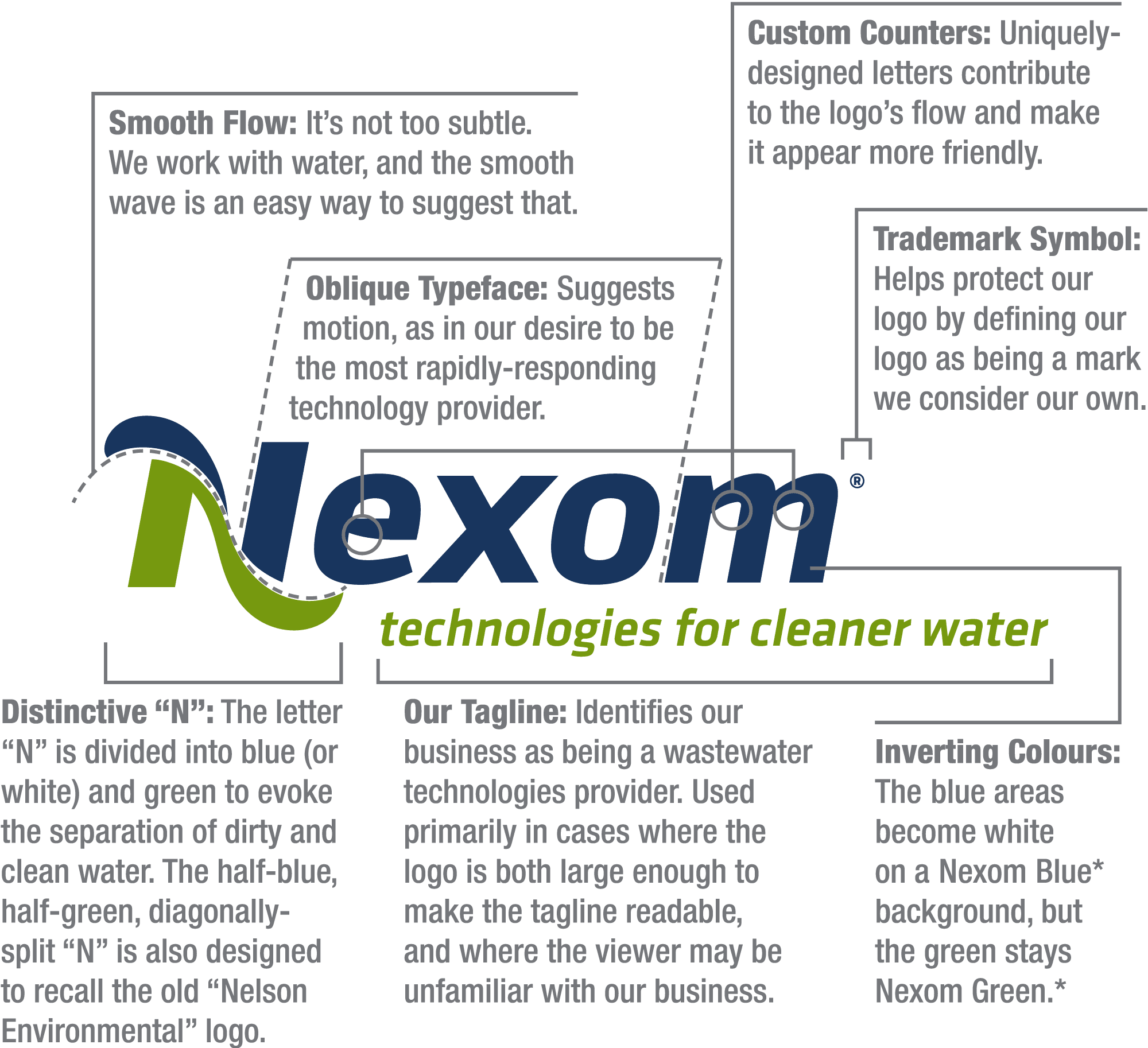 What is a brand or a logo without a good story to tell? Our
EDI LOGO
tells the story of our impact in the wastewater treatment process.
VARIATIONS
Our logo comes in many forms, distinguished by variables like the ones below. Ask Marketing for the version you should use.
Color
On white (or light solid colors):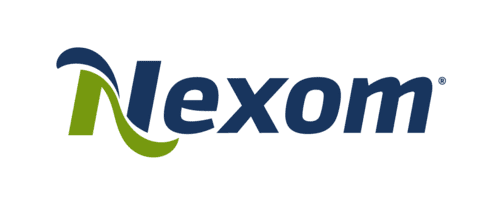 On dark or patterned colors: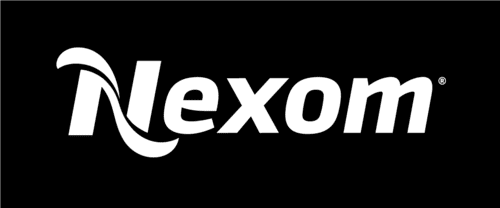 Where the logo is >1.5" wide (in normal applications) and viewers may not know Nexom, we use our tagline:
Where the logo is too small for the tagline to be clear or viewers would know us, we use no tagline: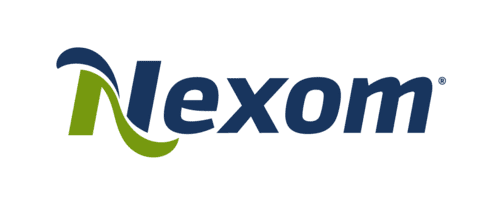 On screens, we use widely-supported formats like JPEG or PNG that are pixel-based which, magnified, looks like:
In print, we use specialized files like EPS that use geometry to define outlines so the logo is sharp at high resolutions:
En français, nous utilisons:
On white (or light solid colors):
On dark or patterned colors:
This version of the EDI logo is for use as a header on your EDI letterhead or in any instance you find that you need to spell out Environmental Dynamics International.

It is all of our jobs to responsibly use and—when called upon—protect our family crest.
LOGO USAGE GUIDELINES
CLEAR SPACE REQUIREMENT
To avoid crowding our logo, keep it an "m" clear of any other elements.

Rotating the logo is a no-no.
Rotating the logo is a no-no.
Rotating the logo is a no-no.
Rotating the logo is a no-no.
Rotating the logo is a no-no.
Rotating the logo is a no-no.
Rotating the logo is a no-no.
Rotating the logo is a no-no.

Rotating the logo is a no-no.
BioPorts™ Moving Bed Biofilm Reactor

Blue PRO® Reactive Filtration
for Phosphorus & Metals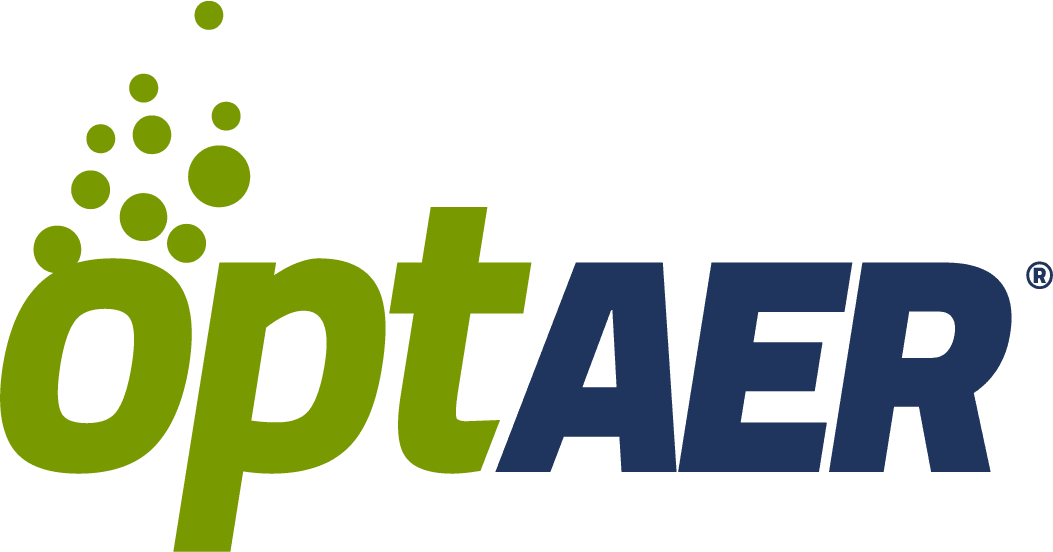 optAER® Fine-Bubble Lagoon Aeration

Blue Nite®
Biological Denitrification
SAGR® Cold-Water Post-Lagoon Nitrification
EcoBELT™ Rotating Belt Filtration

IDEAL™ Intermittently Decanted Aerated Lagoon
infini-D™ Zero-Downtime Cloth Disk Filter
SiteWorks™ Service and Maintenance

Diffuser Express Aeration Parts for All Brands

FlexAir Discs, Tubes (T-Series™, Magnum™), Panels
MaxAir™, Permacap™, HexAir™
Membranes
Matrix™
MatrixPlus™
PU/HTPU
Silicion/ Ceramic
EDPM/ PTFE Coated
Custom
It's easy to properly represent Nexom in documents and presentations.
Just trust our
TEMPLATES
Microsoft Word® Letterhead
Microsoft PowerPoint® Presentations
Where should I save the templates? You should drop them into your Documents\Custom Office Templates folder.
How do I access them in Word/PowerPoint? In either program, hit File>New, and you should find our templates under the Personal tab of the templates that come up.
Our Word Letterhead Template Explained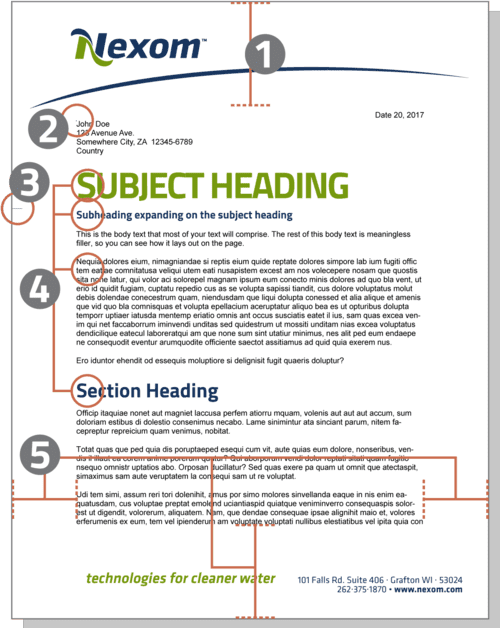 First Page Top Margin: 1.82" from the top edge (or 0.5" plus 4 lines with 12 pt spacing) because we protect the elbow room of our logo.
Address Dot: Position the top-left corner of the address here so it fits in the window of our envelopes.
Fold Line: Fold the letterhead at this point (and the rest behind it) so the address fits in the window of our envelopes (and so the whole document fits in the envelope, period).
Styles: Our Word letterhead templates have Styles & Formatting built in for headers, body text, etc. to draw attention to key points and maintain consistency.
Margins: 1.15" left and right, and 1.65" from the bottom.
Subsequent Page Top Margin: 1.15″ from the top edge. (Other margins are identical to the first page.)
Footer: Enter your document's title and author to remind readers (and help reassemble documents that get mixed up).
Automatic Page Numbers: No need to enter anything here!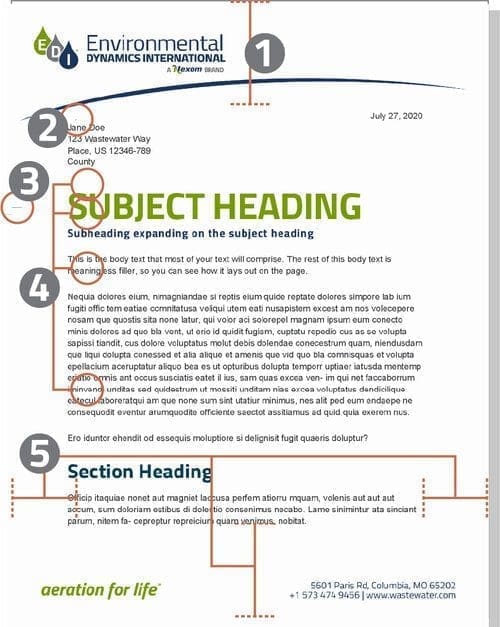 FAQ
Q. The letterhead is splitting my content onto more pages. Can I adjust the margins, paragraph spacing, or font sizing of the letterhead a little?
A. No, and it's not just because we want things to look good.
It's about being easy to understand and simple to work with, a reputation built slowly that can be ruined quickly.
Think about Apple. They have a reputation for simplicity. White backgrounds with a few words of black text. A phone with one button. Or Google: a whole webpage with one search field and two buttons. It would just take one incomprehensible ad or product to lose that reputation.
Even if they don't know it, the person receiving your document cares about formatting, because it makes reading easier. And we care because it helps communicate that we value simplicity, that we are the easiest to work with.
Our Powerpoint Template Explained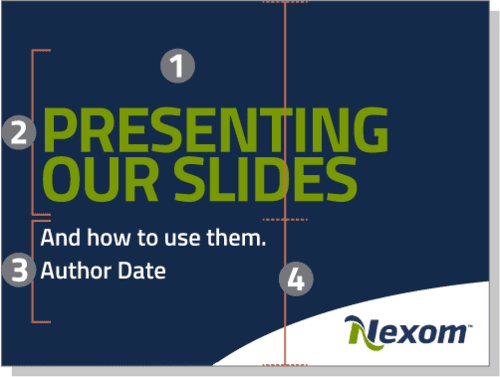 Background Colour: The blue lightens to Nexom Blue in the middle reminiscent of the effect a projector's bulb has on a screen, and to remind us to focus content in the middle.
Title: You only have three lines, which is intentional to force us to devise a concise, simple title.
Subtitle: Here is where you can include an addendum to your title, the presenter name, and the date.
60-40 Split: To emphasize what we want people to recall, we allocate disproportionate space to key points.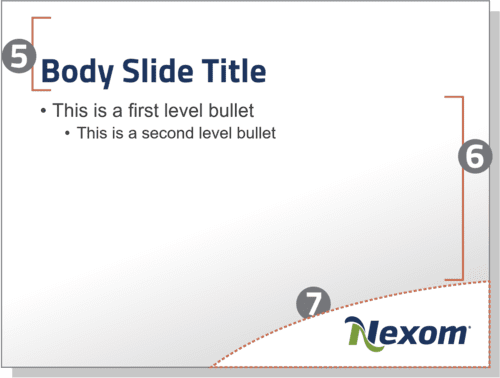 Slide Title: Limited to two lines, this is the key piece of information on the slide.
Body Content: Use brief phrases that focus listeners on what you are saying. Full sentences are distracting, and if you read them they become redundant.
Defend the Logo: The white curve-backed Nexom logo is on every slide. Ensure that neither text nor images overlap the curve.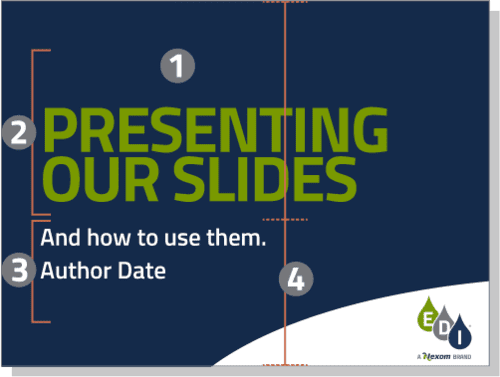 The EDI Presentation is the same as the Nexom template, but with the EDI a Nexom Brand Logo in the bottom right hand corner.
Q. The template text is too large. Can I adjust it?
A. Oof, the marketing team just cringed. For the reasons discussed in the letterhead FAQ above, but also more, please resist the urge!
Sitting sixteen inches from your computer screen, it's exceedingly easy to read fonts as small as 10 points. But when you're delivering a presentation in a massive hall with a decades-old projector on its last legs shining onto a screen much too small for the room (if you're lucky enough to get a screen), you'll wish the standard template text was twice as big.
Rule of thumb: People who win at presentations never have to apologize to the back of the room because they can't read what's on the slide. (This is also why we discourage putting tables of data on slides.)
Q. Do we have to create our slides from scratch?
A. Good news! Over the course of more than five years, Nexom has been refining its presentations and the Marketing team has retained the slides that work best.
If you need to deliver a presentation about Nexom, let Marketing know, and chances are they'll have the slides already to meet your specific PowerPoint needs.